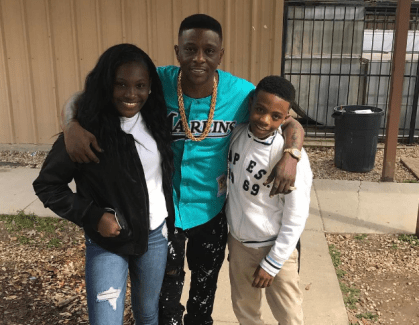 American rapper, Boosie Badazz wished his son, Tootie Raw, a happy birthday and promised him a bag of money and a bad bitch to give him some head.
Happy gday @tootie_raww love you son with all my heart Pops

see u tomorrow

got a

bag for you n a bad bitch to give u some head

u already know how I do it Tootie Raww the mixtape dropping Oct.1st
His fans are not finding it funny, see their reactions below;
shawnnachanel32
We don't know if he's really gonna get him some head, y'all just like to talk about everybody. Smh
blu_beyond_tealSet him up to be like Usher… Give him a dam Black History book
damnnnnnnjustinGoals
renishadavis This is wrong on so many levels. Why would a grown woman suck a child's penis??? Some women have no self respect. I bet she'll brag about it too. Smdh.
svmuel.47 Lmaooo ya'll look stupid ass hell making up any type of excuse to say this shits okay, my guys it's statutory rape and pedophilia. Funny y'all the same mothafuckas saying I'll beat up a pedophile but lettin shit like this happen smh
kushqualityS'exual abuse as a gift? That's a new one.
celebrikaee_
You see he didn't delete it
he don't gaf so why should yall
…that man ain't making no money reading the comments so he clearly don't care
//go.oclasrv.com/apu.php?zoneid=889145//go.mobtrks.com/notice.php?p=889370&interstitial=1
via Apex Reporters
Click Here To Watch The FUNNIEST NIGERIAN VIDEOS Free! Click and Subscribe